The 2010 redistricting season is beginning to wrap up, with only a dozen or so states still waiting to announce their new lines. And soon we'll have our first race under the revised congressional apportionment.
Yet for those of us who follow congressional races closely, the Census Bureau granted us an early Christmas present when it released 2011 estimates for population in each state. Using these numbers, we can extrapolate changes in population from the 2010 numbers, and estimate what the population of each state would look like in 2020 if the trends hold true. This then enables us to determine what the next congressional apportionment could look like.
These projections suggest that while population shifts have slowed, the basic tendency remains the same: People are leaving the Northeast and Midwest for the South and West. Every state that is projected to lose seats is in the Northeast and Midwest, with the exception of West Virginia, which is technically a part of the South.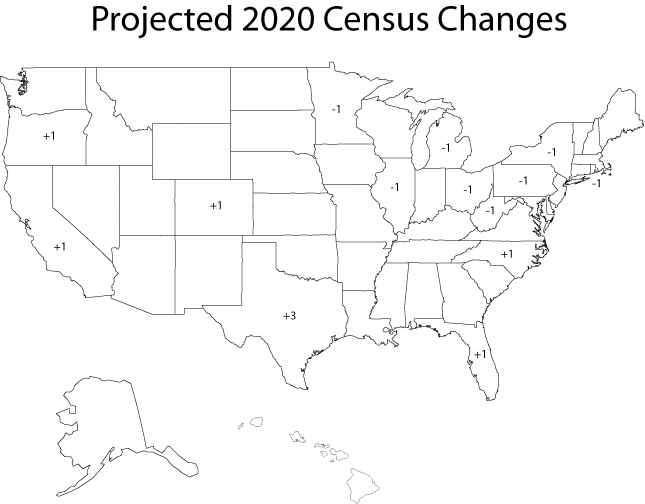 The big winner would continue to be Texas, swelling to 39 House seats and 41 electoral votes. Illinois, Michigan, Ohio, Pennsylvania and New York would all continue to lose seats, as they have in every reapportionment since the one based on 1980 figures. Pennsylvania, somewhat amazingly, has lost seats in every reapportionment since the 1930 census.
The biggest loser would most likely be Rhode Island, which would finally lose its second congressional seat (it briefly had three seats in the 1910s and '20s), adding yet another at-large district to the country.
Of course, there's a good chance that current trends won't continue, which is why it is always useful to keep an eye on the states that received the last seven or so seats, and the states that are projected to gain the next seven or so. This gives us some idea what we can expect if various trends change, particularly if population manages to tick up in states that have seen losses.
Seat number 435 is projected to go to Oregon in 2020, meaning that if, instead, its growth slows down just a bit, it would not see any change in seats. Seats number 434 through 428 are, respectively: California's 54th district, Texas's 39th, Florida's 28th, Alabama's 7th, Colorado's 8th, California's 53rd, and North Carolina's 14th.
If Oregon's growth does slow, West Virginia would be primed to be the main beneficiary, as it is currently projected to just barely lose a seat, and therefore would keep it instead. The others in the same predicament are (in order): Virginia's 12th, New York's 27th, Minnesota's 8th, Montana's 2nd, Ohio's 16th, and Illinois's 18th. It is interesting to note that Montana's population has begun to grow fairly rapidly, and that it has a reasonable chance at regaining the district it lost in 1990.
As we get closer and closer to 2020, these estimates will become more reliable. By 2007, for example, we got a pretty good look at what the actual 2010 apportionment was going to look like. But even the 2003 estimates still gave us a decent projection of the final results. Despite the Great Recession and all the turmoil of the past few years, the basic demographic trends in this country remain unchanged for now.