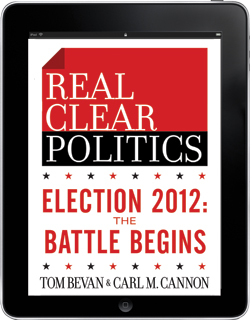 (Note: The following is an excerpt from RealClearPolitics' first eBook, Election 2012: The Battle Begins, which was published on November 11.)
At the end of May, Newt and Callista Gingrich were booked for a luxury cruise through the Greek islands. The subject had come up before in planning meetings, but the staff assumed that once Gingrich made the commitment to run for president, the trip would be canceled or postponed. The Gingriches had other ideas.
"We had numerous conversations with Newt about why this was a terrible idea and why it was a much bigger deal than he thought it was," a senior adviser later recalled. Gingrich wasn't listening; he had convinced himself the trip was not an issue.
The reality, according to a person with knowledge of the discussions, was that "his wife would not let him not do this. In Newt's mind, it was the cruise or his marriage. And he didn't want to get married a fourth time."
At age forty-five, Callista Gingrich is twenty-two years younger than Newt—trim and always impeccably dressed, with sharp features and perfect platinum-blond hair. The two had met when she was serving as a twentysomething staffer on the House Agricultural Committee, and they began a six-year affair that eventually ended Gingrich's second marriage—and cost him his job as well.
Newt and Callista were nearly inseparable. In addition to being a spouse, she was president of Gingrich Productions, a book and film production company formed for the primary purpose of pumping out Newt's prodigious policy ideas. Newt viewed her as a partner in the fullest sense of the word; she was intimately involved in all of his endeavors, including the campaign. Callista took this partnership with her husband seriously, and didn't believe adding a campaign staff altered the pecking order in Gingrich, Inc. Moreover, campaign aides weren't convinced Callista was ever really on board with her husband's run for the White House. The result was a corrosive relationship with the staff, and occasional clashes that had a debilitating effect on the campaign.
"She's the single worst influence on a candidate I've ever seen," said one campaign strategist, adding that Gingrich's lavish spending at Tiffany—including a necklace reportedly worth six figures—was an effort to "buy Callista off" so she'd acquiesce to a presidential run. "It didn't work," the aide said, "and all he got was bad press."
Meanwhile, the campaign itself was bleeding cash it didn't have, in part to pay for chartered flights to accommodate Callista's demand that Newt be home every night. By the end of May, Will Rogers, Gingrich's political director in Iowa, had seen enough. Rogers's frustration with Gingrich's lack of attention and effort in Iowa had been building. He was fielding dozens of invites from GOP activists across Iowa, forwarding them to Gingrich's headquarters back in Virginia, and getting no response.
"At first I thought it was the staff," Rogers told the Des Moines Register, "and then I came to find out it was the candidate." Gingrich's decision to go on the cruise was the last straw for Rogers. He resigned on May 31.
Meanwhile, Rob Johnson's misgivings were so grave that he held off on signing a lease for the Washington campaign headquarters. Johnson, Dawson, and Tyler literally begged Gingrich not to take the cruise. They still hadn't made the Paul Ryan flap disappear; the Tiffany thing hadn't run its course, either; and taking a luxury liner to the Greek islands was going to alienate Republican voters and induce a perception among political writers that Gingrich wasn't serious. Hell, they told him, it was generating that same assessment among the staff.
The Gingriches would have none of it.
"This will blow over," Gingrich told them. "We're not going to let other people define us."
And so, Newt Gingrich disappeared from the campaign trail on May 28. It took only a few days before the press noticed his absence and began sniffing around. On June 3, word leaked that Gingrich had left for vacation, but Tyler refused to confirm his whereabouts. Four days later, the press did it for him, reporting that Newt and Callista were on a weeklong cruise through the Greek islands aboard the Seabourn Odyssey. Pressed again for a comment, Tyler responded via e-mail: "αριθ. Σχ?λιο," which is Greek for 'no comment.'"
While the Gingriches were luxuriating halfway around the world, back in Virginia, Sam Dawson pulled out a yellow legal pad and wrote at the top, "A Painful but Necessary Memo." Dawson briefly laid out the financial and political situation of the campaign before presenting Gingrich with three options: (1) exit the race on his own terms; (2) continue the status quo and eventually be driven from the race by the media; or (3) change strategies to run a severely scaled-down operation.
Dawson sent the draft to Rob Johnson for his input, and they e-mailed the memo to Gingrich. On June 8, Gingrich, Dawson, and Johnson met for breakfast at the Ritz-Carlton in Tysons Corner, Virginia. They spent nearly two hours discussing the options laid out in the memo, although after the first hour it seemed to the two aides that Gingrich was pressing to continue the campaign in its current form. Both Dawson and Johnson believed this was unsustainable, but the meeting ended without any resolution.
The following morning, Dawson and Johnson met again for breakfast at the Key Bridge Marriott in Arlington, Virginia, before hopping a cab for the ten-minute ride over to Gingrich's offices on K Street in Washington. Newt and Callista greeted them, and the four sat down at a conference table and rehashed things. Gingrich reiterated that he intended to move forward following the same path.
Dawson and Johnson told Gingrich he deserved to run the type of campaign he wanted and believed in—but it wasn't a campaign they would be part of.
"I think what you're doing is suicide, and I won't participate in assisted suicide," Dawson told Gingrich.
Johnson and Dawson informed the Gingriches they were speaking for most of the rest of the staff as well, including Dave Carney, Rick Tyler, and members of the field teams in Iowa, New Hampshire, and South Carolina. Gingrich was stoic. He neither tried to talk the men out of their decision nor said much in reply. The four said their good-byes, and Dawson and Johnson left.
News of the mass resignations broke shortly thereafter and partly by accident. As Johnson hailed a cab outside Gingrich's office, Dawson called Tyler to tell him the news. Tyler, anticipating the outcome, had already written a short letter of resignation and read it to Dawson over the phone. "Sounds good," Dawson said. "Hit the button and send it."
Johnson and Dawson got into the cab for the quick ride back to Arlington, but within minutes both their BlackBerrys were buzzing with e-mails and calls from the major media outlets.
Dawson called Tyler back. "What the hell is going on?" he asked. Tyler had hit the Send button on his resignation letter all right—but instead of sending it to Gingrich, he'd sent it out to his entire press list. Meanwhile, the candidate was back in his office hammering out a statement, which he immediately posted to his Facebook page, saying, "I am committed to running the substantive, solutions-oriented campaign I set out to run earlier this spring. The campaign begins anew Sunday in Los Angeles."
The entire epic drama, from launch to crash, had played out in just twenty-nine days. Many pundits declared the campaign dead. Some said Gingrich wouldn't be able to make it to the Ames Straw Poll in August; others insisted he wouldn't make it through the end of the week.
For the political professionals and journalists who knew Gingrich well, the Shakespearean arc of his candidacy wasn't a surprise, only the speed at which it occurred. But in some ways, his new, leaner campaign suited him better. Gingrich had little use for a fund-raising staff because, like Bachmann, he had scant experience with or interest in courting national donors. He's a media consultant's nightmare: Staying on message bores Gingrich; he views it as too confining and something only less intelligent candidates need to do. It wasn't that he didn't want to run for president; it's that he only wanted to do it on his terms. In hindsight, the best clue wasn't that Gingrich had attracted top-level talent such as Dave Carney; it was that Joe Gaylord, the political professional closest to Gingrich, chose not to join the campaign.
For more behind the scenes drama of the race for the Republican nomination, download a copy of Election 2012: The Battle Begins.