The Republican primary season seems to have had an endless succession of Republican front-runners and alternatives to Mitt Romney. But history suggests that we're just getting started. Take a look at the RealClearPolitics average for the Republican contest in 2008: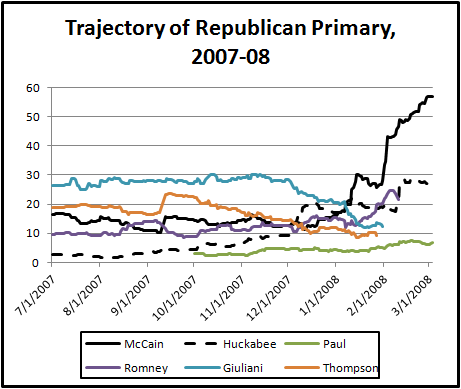 At this point in the last cycle, the rankings were: (1) Rudy Giuliani; (2) Fred Thompson; (3) John McCain, roughly tied with Mitt Romney; (5) Mike Huckabee. Two months later, it was a McCain/Huckabee race. Giuliani wouldn't begin to decline for another month, and McCain wouldn't be in first place until mid-January.
Of course, the national ratings are only a small portion of what goes on in a primary. Iowa and New Hampshire are key. Here's the RCP Average for 2008 in those two states, with Huckabee bolded for Iowa and McCain bolded for New Hampshire: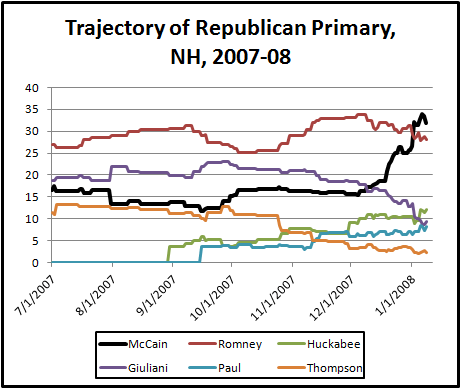 The Huckaboom had started in Iowa, but Romney was still in first place. In New Hampshire, McCain was still in third place, showing little sign of life. Romney led him by about 15 points.
We see a similar trend on the Democratic side: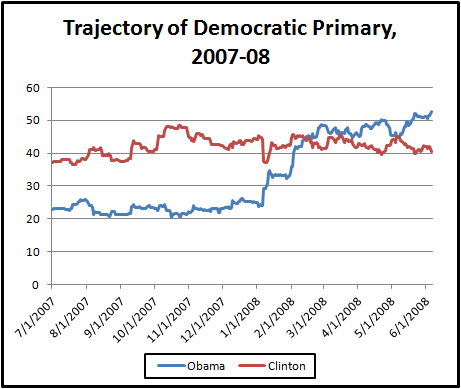 Hillary Clinton started her decline in early November, after she flubbed a debate question on illegal immigration. But Obama's bounce didn't really begin nationally until after he won Iowa, and he didn't catch the front-runner until well into February.