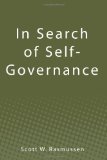 In Search of Self-Governance is not the sort of book you would expect the head of a major polling firm to write. Scott Rasmussen, the president and founder of Rasmussen Reports, has written a slim volume that is admittedly "not filled with polling data," and that's putting it too mildly. The first percentage the reader comes across is half way through the book, where we learn that "only about 3% of Americans watch those Sunday morning shows."
Rasmussen has written a heart-felt pamphlet calling for a reordering of American politics, from bottom to top. The only special pleading he does on behalf of his day job is to assure us that that the "ideas and attitudes presented are shared by a solid majority of Americans." He takes up the popular complaint that our political system is "broken" and that political "dialogue" is really aimed at dividing and conquering the public. He says that "all" Americans (once you round up, I suppose) "believe we can do better."
According to Rasmussen, American politics is broken because politicians of both parties have lost sight of something important. After the last presidential election, he explains, Democrats argued over how far left they could govern the country. Republicans and some pundits tried to counter that they would fail because this is really a "center-right nation," and needs to be governed from that perspective. "Both perspectives are wrong," he avers. "The American people don't want to be governed from the left, the right, or the center. The American people want to govern themselves."
He invokes the Declaration of Independence and Alexis de Tocqueville, as all would-be civic reformers must. The French observer marveled at the ability of "Americans of all ages, conditions, and dispositions" in the 1830s to form seemingly spontaneous associations "of a thousand kinds" to deal with collective problems. Explains Rasmussen, "this American trait was radically different from the world [de Tocqueville] knew. In France or England, he observed, when something needed to be done, the government or a person of noble rank would be asked to do it."
But 1776 or the 1830s were a long time ago. Has that American instinct toward self government persisted? Rasmussen argues that it has. In this present century, Americans do not often dwell on "the virtues of self-governance. Instead, we live them. Our society and daily life is still based upon those concepts so eloquently articulated long ago." In his telling, Americans are not anarchists but they think that the government should form only a small part of our larger society. Americans would far prefer to govern ourselves, for the most part, through volunteerism and the normal back-and-forth of commerce.
Is he right about that? Is Rasmussen expressing his own preference or is he speaking up for "ideas and attitudes" that are "shared by a solid majority of Americans" in his call for a return to self-government from our current big government policies? One test case would be Social Security. Rasmussen writes that while the political class has so far "failed to come up with a solution" to the looming entitlement crisis, "the American people have been dealing with the reality before them for years rather than waiting for somebody else." They have set up 401(k) accounts, started second businesses as fall-back options, delayed retirement, and in hundreds of other ways factored in the real possibility that they won't be able to rely upon government largesse in the future.
These prudent actions now, Rasmussen hopes, "will make Social Security less essential in the future." Of course, this will come at a steep and unfair price. The current generation of younger workers "will be the sandwich generation and pay for two generations worth of retirement -- our own and our parents."
A huge problem that Rasmussen is up against in arguing for greater self-governance is that the political trends have been running the other way. President George W. Bush expanded Medicare and had his proposed free market Social Security reform was quashed by a Republican Congress. President Barack Obama rammed an expansion of government controlled healthcare through, over the tepid objections of moderates in his own party. Both men embraced bailouts and stimulus in what Rasmussen decries as "an unholy alliance" of big business and big government.
Rasmussen's only real hope, politically, is in the mother of all backlashes. He wants a temporary era of renewed civic participation in politics by people who usually hate politics. Though he doesn't call out the tea parties by name, it's reasonably clear that's what he has in mind. He cautions would-be reformers about the need to work with established pols to prune back the state. He even drags in the Star Wars trilogy to help make the pitch. Like Darth Vader, he argues, "Career politicians may have gone over to the dark side, but it's not too late for all of them."