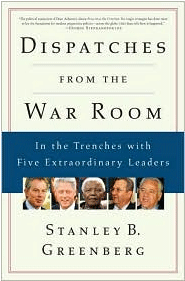 Dispatches from the War Room: In the Trenches with Five Extraordinary Leaders
By Stan Greenberg
St. Martin's Press, February 2009 (512 pp)
Read a Q&A with author Stan Greenberg about his new book.
---------------------------------------------------
Late last year, as his time in the White House drew near its close, Vice President Dick Cheney explained that "if you govern based upon poll numbers, upon trying to improve your overall poll ratings, people I've encountered who do that are people who won't make tough decisions." Cheney's insinuation -- that bucking the fickle trends of public opinion demonstrates strong leadership -- is a common technique used by politicians seeking to display their independence and stayed judgment. Put another way, in modern politics "public opinion" has come to be considered anathema to sound policymaking and leadership in government.
This is a perception that veteran pollster and political strategist Stan Greenberg has struggled with during his career. In "Dispatches from the War Room: In the Trenches with Five Extraordinary Leaders," Greenberg argues for a reappraisal of polling by recounting his campaign experiences with five left of center candidates - Bill Clinton, Tony Blair, Nelson Mandela, Ehud Barak and Gonzalo Sanchez de Lozada -whom he taught to effectively harness survey research.
The book begins with the well-storied Clinton war room. Working out of Little Rock, Arkansas with the likes of James Carville and George Stephanopoulos, Greenberg helped build the disciplined, message-oriented campaign that catapulted Bill Clinton into the White House in 1992. Offering clear choices and a deliverable platform to the electorate, Greenberg and his colleagues created a blueprint for running and winning tough campaigns for left-leaning candidates.
The book's most salient examples, however, don't come from Little Rock, but rather South Africa, Israel and the United Kingdom - all places Greenberg soon found himself advising candidates at the highest level of national politics, based on his success at turning a long-shot southern governor into the President of the United States.
At times, "Dispatches" reads like a campaign manual: a peek inside focus groups, behind closed doors, and inside the pages of strategy drafts and campaign plans. The campaign, as Greenberg explains it, is a chaotic collection of interests, ideals and good intentions. These can all be respectively good things, Greenberg argues, but it's ultimately the "tyranny of message" that helps organize and coordinate good campaigns. The book, therefore, is as much about leadership and the allocation of resources as it is about polling and survey research. If leadership, as Vice President Cheney argues, is about making tough decisions, than it is Greenberg's contention that those tough decisions require the information, organization and clarity of message to pierce the clutter and resonate with the public.
Greenberg's thesis is demonstrated most clearly in the case of South Africa. Sought out by Nelson Mandela's advisors and staff, Greenberg helped turn the successful reform movement of the African National Congress into a governable body with clear goals for all South Africans. Along with his colleagues, Greenberg helped to develop the "People's Forum;" events akin to town hall forums that allowed the people to speak out and be closer to the iconic Mandela. These forums also aided the ANC in creating a feasible economic platform that met the needs of South Africans. "Apartheid is a trap," wrote Greenberg, as the campaign team struggled with a way to create a message that didn't box Mandela in as a dated reformer. Focusing instead on jobs and education, Greenberg helped the ANC translate ideals into action.
Five years later, Greenberg and fellow Clintonistas Bob Shrum and James Carville found themselves in Israel working for Labor war hero Ehud Barak in his bid to unseat Prime Minister Benjamin Netanyahu. For Barak, winning the premiership was just the beginning of his struggles with public opinion. With the aid of his American strategists, Barak kept tabs on Israeli approval all throughout the Camp David peace process. Using the data like intelligence on a battlefield, Barak worked to move the public on tough obstacles to a deal, such as the division of Jerusalem, the expansion of settlements, and the return of Palestinian lands.
"Dispatches" does have moments of incongruity. While defending the work of the political consulting class, Greenberg also defends the cause of progressivism all around the globe. But the Clintonian strategy of fighting for the so-called "radical center" often undermined and disenfranchised the left-wing base in the countries profiled, as Greenberg himself concedes with the 1997 election of Tony Blair. Campaign pledges often run aground on the reality of governing, sometimes bringing Greenberg's idealistic apologetic for the industry into question. Indeed, three of the five men profiled (Barak, Blair, and de Lozada) ultimately left office with low public approval; done in, not so ironically, by their own devices.
Nevertheless, "Dispatches from the War Room" serves as a good manual for prospective candidates and campaigners alike. Intent on making the case for public opinion, Greenberg provides substantive examples for why this kind of consultation is important for making the tough - and even the not so tough - decisions that go along with democratic leadership. Organizing ideals into action, Greenberg offers young activists and consultants an inspired how-to on smart campaign strategy; a sort of Rules for Radicals Turned Realists. Anyone can simply take a poll, but not everyone can use that poll to inspire and lead. There's a difference, and it's a difference Stan Greenberg successfully advocates in this work.