Mississippi Gubernatorial Election
Election Date: November 4, 2003
Barbour Wins: Hattiesburg Amricn | Jackson Clarion-Ldgr | Tupelo Dailly News
Final Election Results - Mississippi Secretary of State/PRM (11/5)
Barbour's Strategies Proved Best - Jackson Clarion-Ledger (11/5)
Barbour Showed Early Talent for Politics - Newsday/AP (11/5)
Sizable Turnout Favors GOP - Jackson Clarion-Ledger (11/5)
Bush Telephones GOP Governors-elect - Associated Press (11/5)
---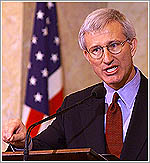 Ronnie Musgrove (D)
Age: 47
Education: B.A., Business Administration, University of Mississippi (1978); J.D., University of Mississippi School of Law (1981).
Political Experience: Governor of Mississippi (1999 - present); Lt. Governor of Mississippi (1995-1999); Chairman, National Conference of Lieutenant Governors (1998); Mississippi State Senator (1987-1995).
Professional Experience: Attorney, Smith, Musgrove & McCord (1981-1999)
Personal: Born July 29, 1956, Tocowa, Mississippi. Divorced, two children, Jordan (18) and Carmen Rae (15).
Religion: Baptist
1999 Election Results: R. Musgrove (D) 50%, M. Parker (R) 49%
Profiles/Interviews: Daily Journal (October 26, 2003) | Speech to the National Governor's Association (January 9, 2003)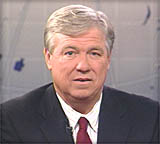 Haley Barbour (R)
Age: 56
Education: Attended University of Mississippi; Law Degree, Ole Miss, 1972.
Political Experience: Chairman, Republican National Committee (1993-97); Senior Adviser, George Bush for President (1988); White House Political Director for President Ronald Reagan (1985); Republican State Committeeman (1984-present); Republican Senate Nominee (1982); Southeastern Coordinator, Gerald Ford Presidential Campaign (1976); Executive Director, Mississippi Republican Party & Southern Association of Republican State Chairmen (1973-76); Field Organizer, Richard Nixon Presidential Campaign (1968).
Professional Experience: Chairman & CEO, Barbour, Griffith, and Rogers (1986-Present). Attorney, Henry, Barbour & DeCell Law Firm (1973-85).
Personal: Oct. 22, 1947, in Yazoo City. Wife, Marsha, and sons, Sterling (28) and Reeves(23).
Profiles/Interviews: Daily Journal (October 26, 2003) | NY Times Magazine (October 18, 2003) | Jackson Clarion-Ledger (February 16, 2003) | Center for Public Integrity (September 30, 1999)
Poll

Musgrove (D)

Barbour (R)

Undecided

Spread

RCP Average

43.3%

46.0%

10.0%

Barbour + 2.7

43%

47%

9%

Barbour + 4

42%

41%

16%

Musgrove + 4

45%

50%

5%

Barbour + 5

RCP Final Call 11/4: Musgrove has run a decent campaign and has made some headway with his characterization of Haley Barbour as a slick Washington lobbyist. The latest polls show a tight race with a 2-3 point lead for Barbour. The problem for Musgrove is he can't get over 45% in the polls, which is very bad news for an incumbent and almost always leads to a loss. Mississippi is a very conservative state and while Musgrove is running as a conservative and has totally eschewed the national Democratic Party, it won't be enough. President Bush remains extremely popular and was in the state this past weekend campaigning for Barbour. Musgrove will need a massive vote from the African-American community, which he will get, but he will need to do better than he did in 1999 with the state's white voters, which we suspect he will not do. Barbour 52% - Musgrove 48%.

Updated 10/29: Governor Musgrove was elected by the Mississippi House of Representatives in January 2000 after beating Republican Mike Parker by 8,343 votes, in the closest election in Mississippi history. There has not been a lot of public polling in this race, but the latest poll done for the Jackson Clarion-Ledger by Ipsos Public Affairs shows the GOP nominee Haley Barbour ahead by five points, 50%-45%. Musgrove's camp says the race is a dead heat, while Barbour's campaign suggests their candidate is ahead, and by more than five points.

Racial politics are always a factor in Mississippi and this election will be no different. In 2000, 82% of whites voted for George Bush and 96% of blacks voted for Al Gore. Musgrove is going to have to get a massive turnout by the African-American community to keep his job and he is going to have to do better than he did in 1999 among the states' white voters.

Senator Trent Lott may be an unpopular politician in the country at large, but he is very popular in Mississippi and that entire episode last Christmas, probably hurt the Democrats in Mississippi. Also, Senate Republicans are bringing long-time Bush nominee Charles Pickering back to the Senate for a very public vote on his nomination to the 5th U.S. Circuit Court of Appeals. The national Democrats continued assault on Judge Pickering does not help Musgrove, irrespective of the fact he supports Pickering's confirmation.

Musgrove may very well get a large black turnout next week, but we suspect he will fare worse than he did in 1999 with white voters and that in the end will be the difference. President Bush remains very popular in the state and we see little reason to think Musgrove will buck the trend against the Democrats in the South. Barbour wins, GOP pickup.
Busy Polls Anticipated for Election - The Clarion-Ledger (11/4)
S. Mississippi Prepares for Big Turnout at Polls - Biloxi Sun-Herald (11/4)
Miss. Governor's Race Looks Tight - USA Today (11/3)
Star Power Confronts an Energetic Incumbent in Miss. - Washington Post (11/3)
Gov. Race Taking on Air of Urgency - The Clarion-Ledger (11/3)
Candidates Still Campaigning as Election Looms - Biloxi Sun-Herald/AP (11/3)
Poll Watchers To Be On Duty Tuesday - The Clarion-Ledger (11/3)
Bush: Barbour Right for State - Biloxi Sun-Herald (11/2)
Bush Praises Barbour's 'Values' - Washington Times (11/2)
Undecided Voters Key in Tight Governor's Race - The Clarion-Ledger (11/1)
Some Clues to '04, However Faint, Are Set to Emerge - NY Times (11/1)
Bush Stumps for GOP Gubernatorial Candidates in Miss, Ky - AP (11/1)
Musgrove Focuses on His Roots Public Education - Tupelo Daily Journal (11/1)
Barbour Hoping to Attract Record Black Vote - The Clarion-Ledger (11/1)
Barbour Listens and Learns at Mental Health Facility - Tupelo Daily Journal (11/1)
WLBT Poll Shows Barbour With Edge - The Clarion-Ledger (10/31)
Frenzy of Activity Precedes Bush's Visit for Barbour - Biloxi Sun-Herald (10/31)
Barbour Gives NAFTA Praise in '94 Footage - The Clarion-Ledger (10/31)
Lt. Gov. Candidates Clash on Abortion, Tort Reform - The Clarion-Ledger (10/31)
Confederate Banner Back in Miss. Politics - LA Times (10/30)
What Does It Take to be Gov.? - The Clarion-Ledger (10/30)
Analyst: High Black Turnout Only Way Musgrove Can Win - WLOX/AP (10/30)
Attack Ads fly in Mississippi's Governor's Race - WMC-TV (10/29)
Dem Opposition to Pickering Could Help GOP in Mississippi - CNS News (10/29)
In Mississippi, Kentucky, A Boost From Bush - Washington Post (10/28)
Survey Says Black Vote May Not Spell Victory - The Clarion-Ledger (10/28)
Governor's Race Has Gender Gap, Poll Says - Biloxi Sun-Herald/AP (10/28)
Poll: Musgrove Ad Not Working - Hattiesburg American (10/28)
Cheney: Barbour Campaign 'Positive, Hopeful, Optimistic' - Biloxi SH/AP (10/28)
Poll Eyes Musgrove 'Insider' Ad Tactic - The Clarion-Ledger (10/27)
Underdog Status OK with Musgrove - The Clarion-Ledger (10/26)
Poll Shows Barbour With Lead - The Clarion-Ledger (10/26)
Underdog Status OK With Musgrove - The Clarion-Ledger (10/25)
Mississippi Democrats Back Barbour - Washington Times (10/23)
Musgrove Touts Mississippi Workers - Meridian Star (10/22)
Barbour Touts His Political Allies - Biloxi Sun-Herald (10/22)
Musgrove, Barbour Agree: Education's No. 1 - Tupelo Daily Journal (10/22)
Gov. Candidates Revive Ad Rift - The Clarion-Ledger (10/21)
Candidates Appeal for S. Miss. Votes - Biloxi Sun-Herald (10/21)
Many in Miss. Want More Details & Less Rhetoric - The Clarion-Ledger (10/20)
Candidates Focus on Jobs - Tupelo Daily Journal (10/19)
Getting Down and Dirty in Mississippi - Atlanta JC (10/18)
Barbour Won't Ask Group to Remove Photo From Web Site - Fox News/AP (10/17)
Mississippi Incumbent Surprises His G.O.P. Opponent - NY Times (10/17)
Musgrove says Barbour not suited to govern - Meridian Star (10/16)
Musgrove: My plan is working - Biloxi Sun-Herald (10/15)
Barbour Lashes Out in Debate - The Clarion-Ledger (10/15)
Musgrove: New GOP Web site 'negative' - Hattiesburg American/AP (10/14)
Miss. County Shows Trouble for Governor - Washington Post/AP (10/11)


Mississippi Media Links

Newspapers: Biloxi Sun Herald | Hattiesburg American | Jackson Clarion-Ledger | Tupelo Daily Journal
Television: WLBT (NBC - Jackson) | WLOX (ABC - Biloxi) | WJTV (CBS - Jackson)
Other: Magnolia Report | Stateline